Medhu vadai or Ulunthu vadai is a perfect snack to have at tea time. Medhu vadai can be had with variety of dips from traditional sambhar to coconut chutney. But my favourite thing is to have with sweet pongal.  A bite from crispy vadai and the next from sweet pongal, oh it will be divine. I still remember how i got addicted to this different taste. During my childhood days, grandma used to take us to temple for prayers. On certain occasions, she offers vadai malai ( garland made of these yummy vadais ) to deity.  After hour long poojas ( all eyes set on the garland ) , vadai malai will be given back along with sweet pongal ,prepared as a part of temple prasadam. Next thing u see is everyone dipping vadais into the pongal and savouring it.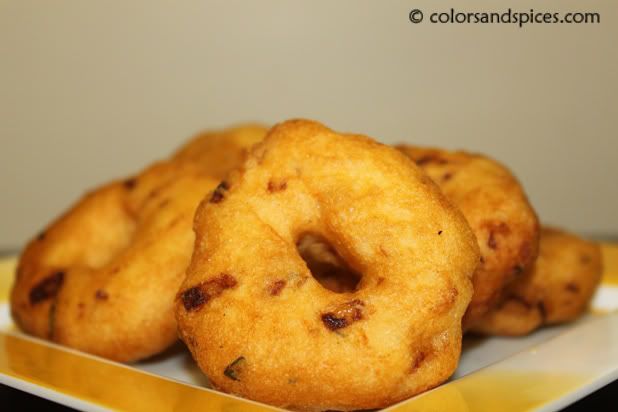 Here at home , after grinding the dough, i usually refrigerate it in a air tight container.  I remove them as required and mix with onions and chillies to prepare vadai. U can keep the dough for 2 days. When vadais are prepared from the refrigerated dough it wont absorb oil. Here is the recipe for this yummy snack -
Ingredients:
Whole urad dhaal – 1 cup
Onion – 2 medium sized, finely chopped
Chilli – 1 ( optional , if serving kids )
Curry leaves – 5 finely chopped
Pepper – 4 ( optional , if serving kids )
Salt – for taste
Oil – for frying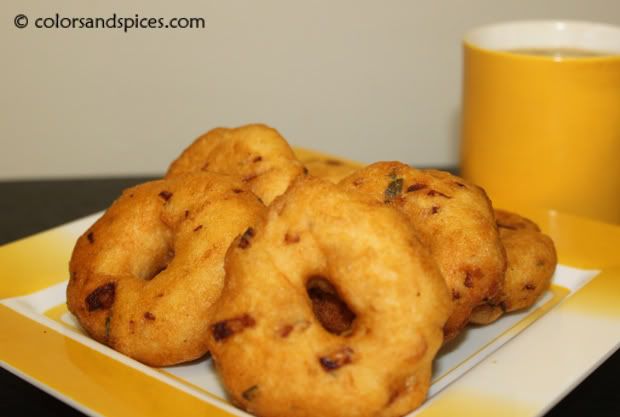 Method:
Soak urad dhaal in water for 4 hrs. Time may actually depend on the quality of dhaal
Grind dhaal with salt by adding very little water to a very soft dough. U should be able to hold dough in the hands in the form of ball
Add chopped onions , curry leaves and optional items ( chilli, pepper ) to dough and mix well
Now take a thick plastic sheet , slightly brush the sheet with 2 drops of oil.  Keep a bowl with water alongside
Now dip ur hands in water and then take dough in the form of a ball . Place it over the plastic sheet and gently press and make a hole at the centre
Drop the dough in the hot oil and fry them till golden brown at medium heat
Note : Consistency of dough is very much important in preparing soft and less oily vadais. Dont add too much water while grinding. Also when frying , make sure flame is at medium heat else u will get vadais crispy outside and uncooked inside.