Cheese cake is quite different from other cakes. Though it takes more time , the results will be amazing. It will be a perfect dessert for dinner parties. There were many cheesecake recipes in the web but i couldn't follow any particular recipe. One day i was watching Nigella Feasts in TLC and to my luck she made a beautiful and gorgeous cheesecake . I picked up few points and added to those gathered from other versions of recipe.  So here is my version of this recipe and it came out perfect.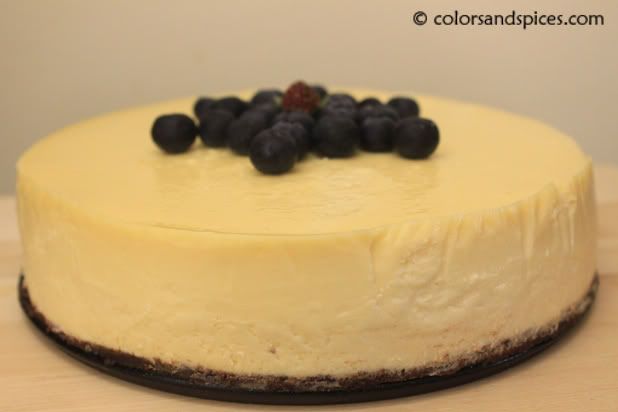 Ingredients :
For filling
Cream cheese – 500 gm ( at room temperature )
Sour cream – 500 gm
Eggs – 5
Castor sugar – 2 cups
Vanilla essence – 2 tsp
All purpose flour – 2 tbsp
For crust
Choco chip cookies – 200 gm
Butter -  2 tbsp
For topping
Bluberry – 1 cup
Strawberry – 1 cup
Castor sugar – 2 tbsp
Water – 3 tbsp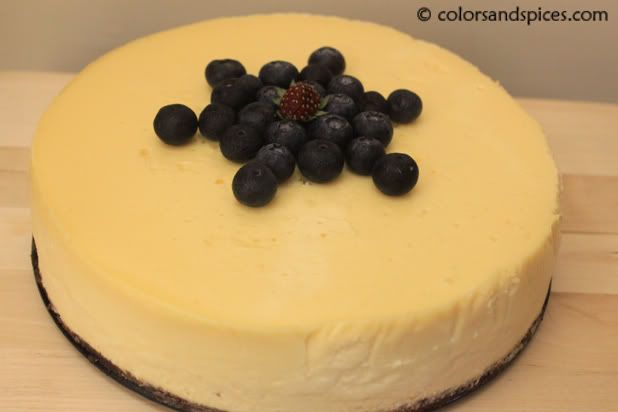 Method :
Preparing pan
Cut the baking paper in the shape of your pan. For a round springform pan, u need one round paper to place at the bottom of the pan and a sheet cut in the form of long ribbon to cover the sides of the pan.
Apply oil to the sheets and gently use them to cover the pan from inside. Oil side of the sheet will smoothly stick to the pan.
Reason for preparing pan is to get smooth sides for the cheesecake. When u actually run down the knife on the sides of cake after its done , some of the cheese gets stuck onto the knife and it distorts the shape of cake. If u prepare the pan , there is no need to run down knife, u can simply remove the latch and lift the pan up.
Preparing Crust
Finely grind choco chip cookies with butter and add them into the prepared pan. First gently spread the crust mixture in the pan and then later firmly with hands till a even layer is formed. U can use a spoon to press the crust at the edges of pan
Bake the crust in the preheated oven ( 180*c) for 10 mins. Allow it cool completely before u add the cheese filling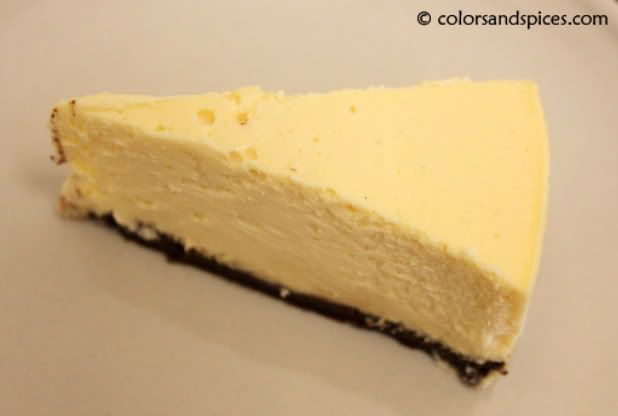 Preparing filling
Add the cream cheese to the bowl and beat at medium speed till its smooth and creamy
Add sugar to cream cheese and beat well for 5 mins. Add vanilla and beat for another 2 mins
Now add eggs one by one to above mixture and beat well after each egg is added
Pour in the sour cream and beat well for 3-4 mins. Finally add the flour to the cream mixture and mix well
Preparing topping
Add sugar and water to the pan and boil for 2 mins.
Add strawberry and boil for another 2-3 mins
Finally add blueberry and boil till the syrup thickens.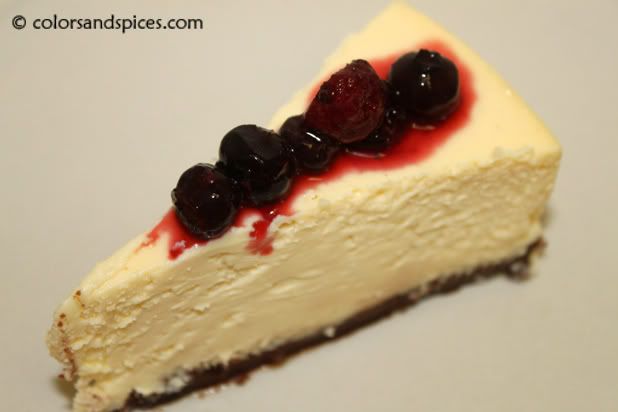 Preparing cake
Pour cream cheese filling into the springform pan over choco crust
Carefully place the pan in the preheated oven . First bake at 170*c for 10 mins, then at 150*c for 20 mins and finally at 125*c for 2 hrs
Once done, allow the cake to rest for 4-5 hrs till it has completely cooled down
Wrap the pan tightly with clingfoil and refrigerate for another 5-6 hrs
Remove the cake from the refrigerator, 30 mins before u serve.
Open the springform latch and gently lift the pan up.
Carefully remove the baking sheet from the sides of the cake and your cake is ready
Add the topping to the cheesecake slice before u serve