Chettinad chicken gravy without using coconut
Chettinad chicken gravy in its authentic will be very spicy and is served with rice. It uses finely grounded coconut paste for the gravy which mixes well the spices and enhances the flavour. But for people like me who run out of coconuts in the kitchen and can't wait till they buy next time from the market , few cashew nuts can do the wonders.  Gravy recipe with cashew paste goes well with the kids and they will love to eat with chappati, rice and dosa as my daughter did.  For my husband, it was thumbs down with rice but liked it very much with chappati and dosa.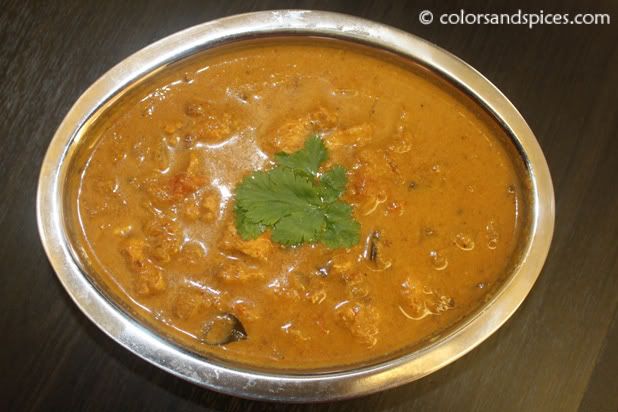 Ingredients :
For marinating
Chicken – 750 gm
Chilli powder – 1 tbsp
Curd – 1 tbsp
Turmeric powder – 1 tsp
Salt
For grinding
Onion – 2 medium sized
Tomato – 2 large sized
Fried channa or Pottu kadalai – 1 tbsp ( optional )
Green chillies – 2
Cashews – 10
Cinnamon – 1
Fennel seeds – 1tsp
Cloves – 1
Oil -  1 tsp
For seasoning
Fennel seeds – 1 tsp
Curry leaves – 8
Small Onions – 1 cup
Tomato – 1 medium sized, chopped finely
Oil – 2 tsp
For gravy
Tamarind paste – 1/2 tbsp ( optional )
Water – 1 1/2 cup
Salt – for taste
Corriander leaves – for garnishing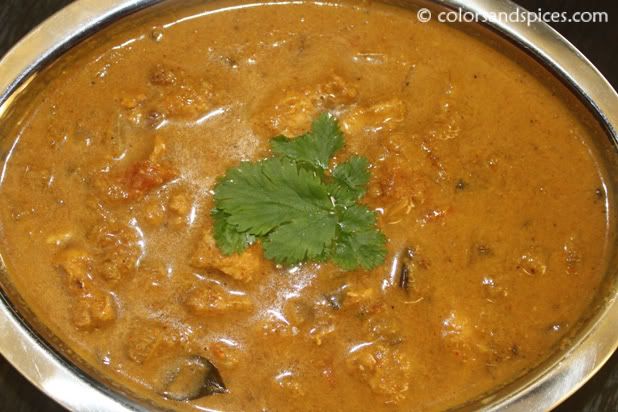 Method :
Marinate chicken
Clean and cut the chicken into 1 inch pieces. Wash them well and pat dry
Add chilli powder, salt, turmeric powder and curd to the chicken and marinate it for 30 mins or till u prepare the masala for grinding
Prepare masala for gravy
Heat oil in a pan. Add fennel seeds, cloves, cinnamon stick and fry for 1 min
Add pottu kadalai and Cashew and fry till they have turned golden brown
Add onions, green chillies and tomatoes one by one and saute them well till they are cooked
Turn off the heat and allow them to cool
Grind the sauted items to fine consistency by adding water and keep aside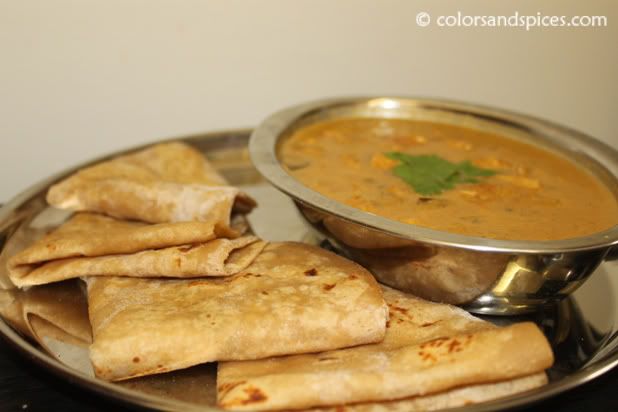 Prepare chicken gravy
Heat oil in a pan. Add fennel seeds and curry leaves. Once they start to pop out, add small onions and fry them well.
Add tomatoes and saute it at medium heat till it has blended well with the onions.
Add the marinated chicken and cook for 10 mins
Now add the ground masala and tamarind paste to chicken . Mix well and cook for 2-3 mins
Add the water, salt to chicken and allow it to boil for 10 mins keeping it covered with lid.
Turn off the heat and garnish with chopped corriander leaves.